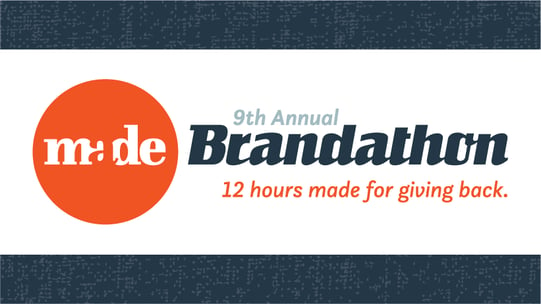 We're excited about your interest in applying for the 9th Annual Brandathon. Brandathon allows us to provide pro-bono services to multiple non-profits within our local community and give back of our time and talents. We accomplish this all within a 12 hour time period on March 6, 2020. If your organization is interested in benefiting from our creative, strategy and marketing services, please fill out the form on this page and click submit before Friday, January 31, 2020 at 5:00 PM EST.
Please note:
Your organization must be a 501(c)(3) or 501(c)(6) located in Polk County, Florida with an active Board of Directors who meet at a minimum on a quarterly basis.
In order to participate, your organization's leadership team and/or members of the board/executive committee must make themselves available for any needed discovery and provide all the necessary content.
The design projects available do not include any associated production costs such as printing. The strategy projects do not include any execution or associated design costs.
Rules & Requirements:
The applying organization must be a 501(c)(3) or 501(c)(6) organization located in Polk County, Florida.
The applying organization must have an active Board of Directors who meets at a minimum on a quarterly basis.
The organization's leadership team and/or members of the board/executive committee must make themselves available for any needed discovery and provide all necessary content, depending upon the selected project, between the dates of February 10 - 28, 2020 in order to participate.
This same group must also be available for the project presentation following the Brandathon on a date to be determined.
Completed and submitted applications must be received via this website no later than Friday, January 31, 2020 by 5:00 pm EST.
For any questions, contact information is as follows:
MADE
Attn: Ashley Miller
1035 South Florida Ave, Suite 101
Lakeland, FL 33803
Phone: 863-500-1476
Email: ashley@madelkld.com