Does Your Buyer's Journey Lead Them To Your Company?
Download our Buyer's Journey Worksheet and create a map to understanding the buyer's steps to a purchase decision.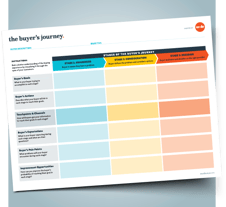 Marketing and sales teams alike benefit from understanding the journey a buyer takes before making a final purchase decision. From first realizing they have a need, to researching available products and services online, to selecting the company they want to solve their problem, buyers are actively seeking helpful information. Make sure the information they find is yours.
We've put together a detailed worksheet to help you list the behaviors and stages a buyer moves through before they ultimately make a decision to buy from your company. Understanding the process through the eyes of your buyer will help you identify opportunities for touchpoints and new content channels.
Our Buyer's Journey Worksheet is designed as a fillable template that you can complete for each of your buyer personas. This tool will also help you create a list of content you should develop and have available for each stage of the Buyer's Journey. With this worksheet you will detail your:
Buyer's Goals
Buyer's Actions
Touchpoints & Channels
Buyer's Expectations
Buyer's Pain Points
Improvement Opportunities
Download it and give it a try. Then, review the completed worksheets with your marketing and sales teams to align your efforts in meeting growth goals for the year.