Is Your Website Working Hard or Hardly Working?
Download Our DIY Website Audit to See How It's Stacking Up!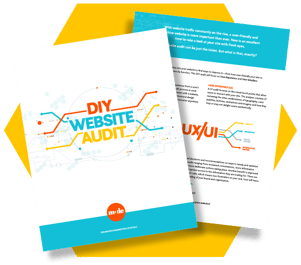 With website traffic constantly on the rise, a user-friendly and intuitive website is more important than ever. Now is an excellent time to take a look at your site with fresh eyes to ensure it's set up for success—and a website audit is just the ticket! But what is that, exactly?
A website audit takes a deep dive into your website to find ways to improve it—from how user-friendly your site is, to technical items that can improve its function.
Our DIY Website Audit focuses on User Experience (UX) and User Interface (UI) to specifically address:
a visitor's full experience from their first interaction to their last
visual touch points like typography, colors, buttons and imagery
While website audits can get pretty detailed and technical, take these simple steps on your own to assess the strengths and weaknesses of your website.