Is Your Marketing Plan Setting You Up For Success?
Download our Strategic Marketing Plan Worksheet and start focusing your efforts to maximize results.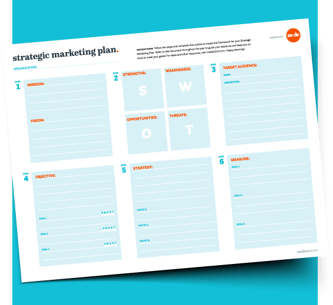 How do you know that your hard work is producing the results your organization needs when your to-do list is never-ending, and it feels like you're racing against the clock?
We understand that making a marketing plan can be overwhelming and hard to start. Using our experience with a wide variety of clients, we created our Strategic Marketing Plan Worksheet to target some of the most crucial elements that propel businesses to success. This fillable template outlines key components to get you started on the road to strategic actions with measurable results.
With this worksheet you will detail your:
Mission & Vision
Situation Analysis
Target Audiences
Objectives & Goals
Strategies & Tactics
Metrics
It's easy to get started and we'll walk you through each step. Download the worksheet today and quickly get a clear understanding of how to direct your efforts for the year.